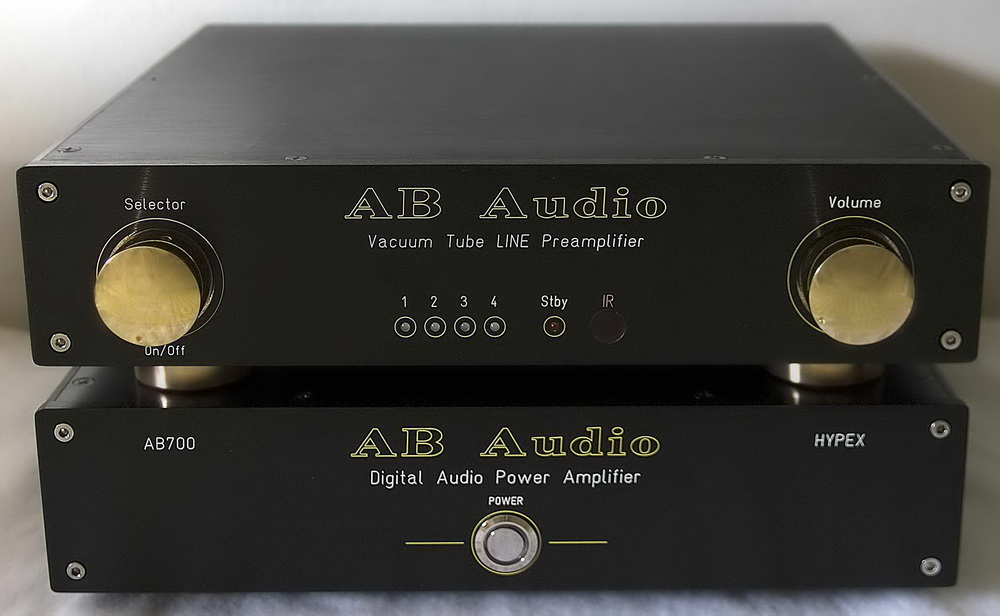 First time on the market !!!
Alexus and Bache audio introduce D class Power Amplifier based on N-Core NC-500 technology and  matching pure analog tube linestage preamplifier.
AB audio  tube line stage preamplifier  design to match  AB class D  Power amp.
Frequency response: 20Hz–20kHz, –0.1dB; 5Hz–140kHz, –3dB. Maximum voltage gain 16 db. Total harmonic distortion: <0.03% at 1V RMS into 41k ohms 41k . Input impedance: typically 16.5k ohms. Output impedance: 200 ohms. Rated output voltage: 1V RMS. Signal/noise: >87dB, wideband, unweighted; >90dB, 22Hz–22kHz, unweighted; >97dB, A-weighted. Dimensions . 12,5″ by 12.5″ by 3″. Finish: Black-anodized. Motorized pure analog volume control. Direct manufacturing price is $ 2620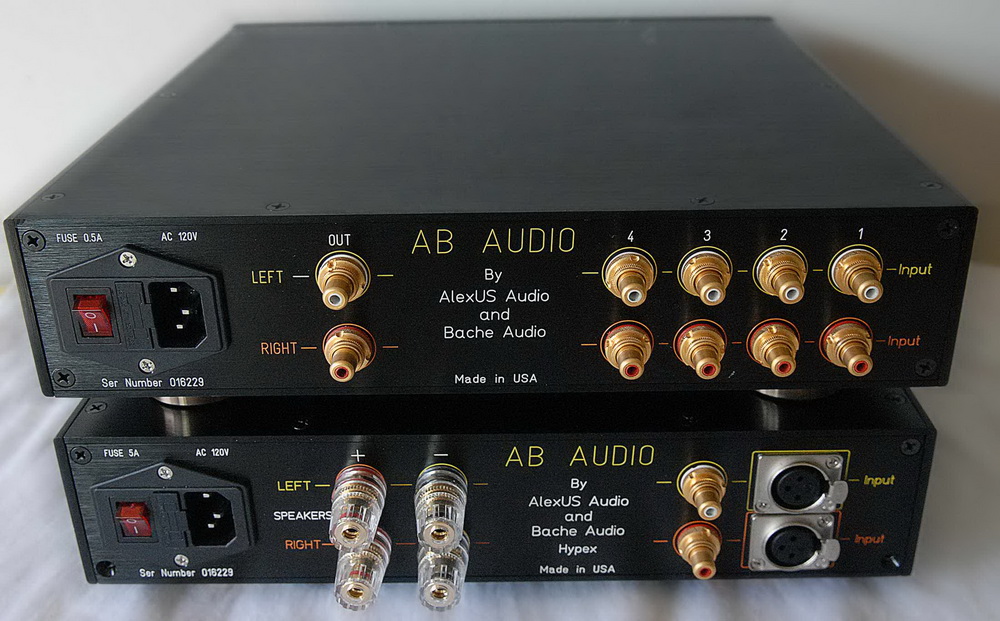 Alexus-Bache Audio is based on world's most sought after class D technology: Ncore. Also designed by Bruno Putzeys, this circuit packs 20 years of research and experience into non-linear control theory. Unprecedentedly low distortion, noise and output impedance combine into what scores of enthusiastic users unanimously describe as "no sonic signature at all". Just music, glorious music. For instance, the two supposedly unassailable strongholds of class A amplifiers are linearity and output impedance, at high frequencies. Plotted below are the output impedance as a function of frequency and the output spectrum in a high power (400W), high frequency IMD test. In both cases out performs any power amplifier, regardless of technology, operating class or asking price, of which such test results are
available.
The amplifier board is a Alexus Bache-specific design deriving from the famous NC-500 amplifier module. The audio circuitry is trimmed to the bare bones and board-to-board connectors are eliminated in favour of soldering a pair of star-quad cables directly into the circuit board for the cleanest, lowest impedance connection possible. The input stage is moved to a separate circuit board that uses the same discrete buffers as those found in the Makua. The redesigned output filter sports monolithic capacitors whose dielectric stability is reflected in an impressively neutral and poised rendition.
The days of compromising power efficiency for audio performance are finally over: the  Alexus-BacheAudio delivers definitive audio performance with power efficiency thrown in as a bonus.
Performance :
Output power: 400 W/8 ohm
700W/4 ohm
1200W/2 ohm
Gain: 28 dB
Unweighted  Signal/Noise Ratio: 128 dB
Distortion (THD, IMD): <0.003 % (all frequencies and power levels)
Input Impedance: 100 khoum
Output Impedance: <0.002 ohm (DF>4000), all frequencies.
Bandwidth: >50 kHz
Dimensions . 12,5″ by 12.5″ by 3″
Finish: Black-anodized
Price: $ 2950  direct manufacture price
Manufacturer  Alexusaudio  & Bacheaudio   750  3 rd ave Brooklyn NY 11232
718-369-9700
About Project