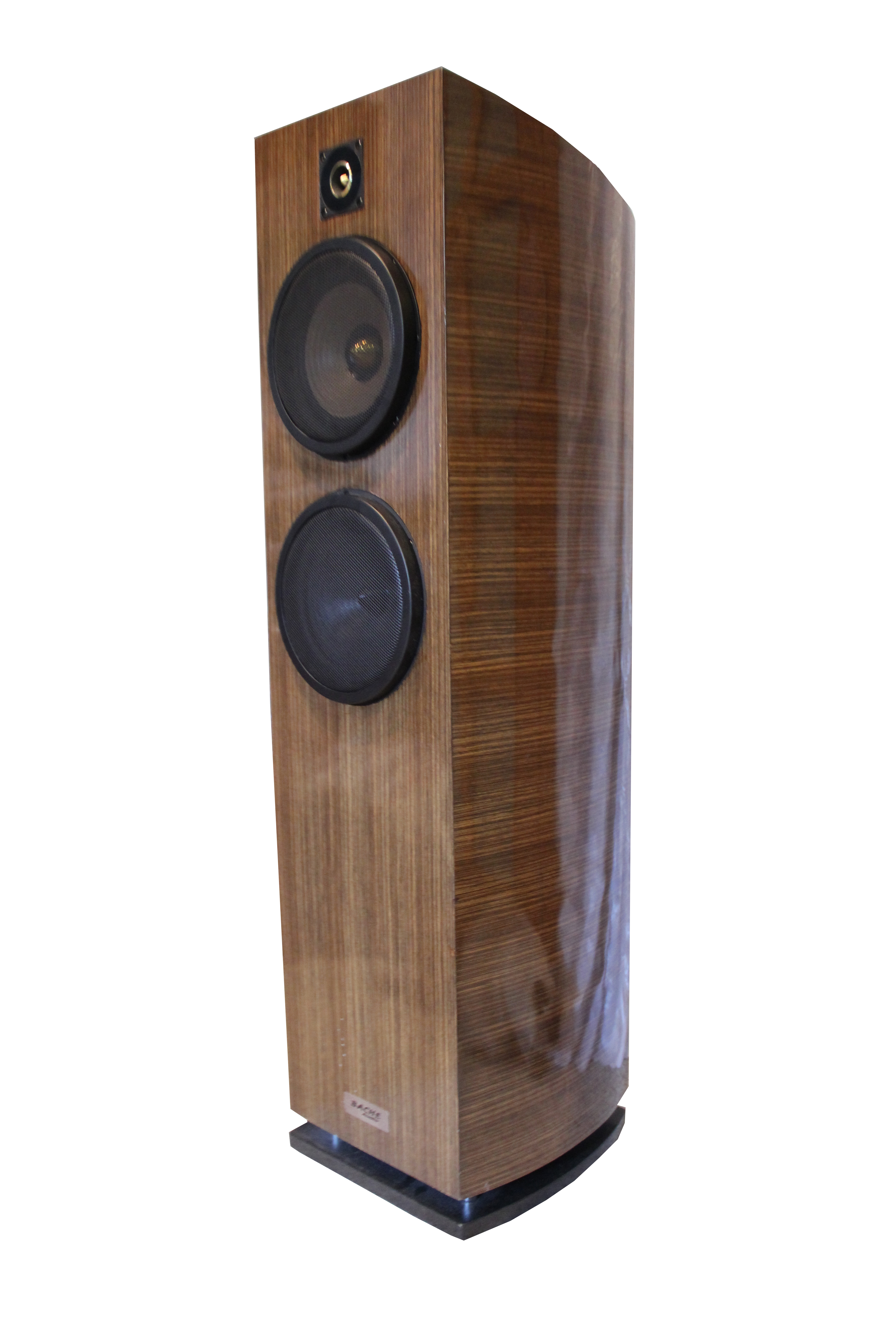 Despite the popularity of wideband drivers, it is well known that they suffer from whizzer cone distortion, and weak bass.  In our previous model, the Bache Audio 001AB, we addressed the coloration by removing the whizzer cone, and by adding a tweeter to supplement the upper frequencies, and a woofer to provide increased lower frequencies.  While we were generally pleased with the result, we continued to do research and came to the realization that all wide band drivers, because of their light paper cone, have a deficiency in the range of 100- 500 Hz  Sonically, this had the tendency to make instruments such as the piano, sound smaller than real life.
To address this issue, we are pleased to announce the release of the Bache Audio Model 002.  The Model 002 has the same three drivers as its predecessor, but also includes a lower midrange/upper bass driver, making it a 4-way design.
Bache Audio 002 Design:
4-way vented-box
Frequency Response:22Hz-40kHz
Sensitivity (2.83V/1m):96
Impedance:8 ohms (minimum 6.4 ohms)
Power Requirement:8-100 recommended
Tweeter:Model—Fostex FT96 EX-2.
Wide range:  Tang Band paper cone 8
Midbass-8 " composit  cone phase plug driver
Lower bass-10" Vifa neodymium magnet driver  Crossover Frequency:100Hz 500 Hz and  8000Hz
Crossover's Attenuation Slope:Low Woofer -24, Midbass -12dB,   Widerange-6 Hz Tweeter -12dB
Crossover Components: True copper Audin is used for  tweeter crossover Jentzen coil.
Connective Cable:Teflon insulated OCC cable
Damping Material:The polyester fiber and the PU foam
Connections:4 pcs 18mm gold-plated copper connectors Cabinet Material:High quality MDF
Finish: The standard finish is Zebrawood high gloss paint. Furthermore, there are also Figured maple PE high gloss paint, Cherry PE high gloss paint and the Black PE high gloss paint for options.
Dimensions (HWD): (43.3″×11"" 12″ ).
Net Weight: Gross Weight: 93lb

PROFESSIONAL REVIEW from hometheaterreview.com
by TERRY LONDON
For many serious music lovers and individuals who love the sound of low-powered SET amplifiers, the holy grail of speakers revolves around using a full-range single-driver design. Owners of these types of speakers experience the beautiful sonic virtues of total transparency, allowing every little detail of the music to be heard, as well as the natural rendering of tones and timbres, the purity and speed often found only in horn-loaded designs, and a seamlessness to the music because there is no crossover. All the frequencies of the music are presented in a perfect tapestry mimicking the sound of live music. People who use SET amplifiers are also enamored with single-driver designs because these speakers often have 90-dB or higher sensitivity with no wicked impedance curves and can be driven to very high volume levels by less than 10 watts.
But for all the superlatives you can give to a certain speaker design, there are also shortcomings or disadvantages. The major flaws of a single, full-range driver design are the rolled-off highs and the lack of power in the lower midrange and upper bass, along with no significant deep bass. In spite of heroic efforts (whizzer cones, giant enclosures with all types of transmission-line configurations), virtually all of these designs still struggle with these sonic deficiencies.
Last year, when I reviewed Bache Audio's excellent-performing Metro-001 speaker, the creative owner/designer of the company, Gregory Belman, was very excited about his attempt to build on all the strengths of a single-driver design while eliminating the shortcomings that other designers had struggled with historically. For the past four months in my home, I've auditioned Belman's newest reference speaker, the 002AB, which retails for $14,900/pair. I've used the 002AB speakers in two different systems in my home, and they've been driven by a 10-watt SET design (the First Watt SIT 2) and a powerful 250-watt single-chassis amplifier (the Pass Labs X250.8).
The 002AB is a four-way speaker. Its full-range driver is an eight-inch, heavily modified Tang Band paper cone transducer. The speaker adds a Fostex FT96 EX-2 super tweeter, which is very expensive and rarely used in American-built speakers, as well as an eight-inch mid-bass driver that has a composite cone phase plug design. Finally, there's a lower-bass/subwoofer driver: a 10-inch Vifa neodymium magnet transducer. The design allows the main driver to cover over 85 percent of the frequency range (the critical midrange has no crossover point at all) and is augmented by the super tweeter on the top end.
My review samples were clad in a beautiful high-gloss Zebrawood. They are raised from the floor a couple of inches on four aluminum poles and are attached to a heavy black-lacquer base plate with footers on the bottom. Each speaker weighs 93 pounds and measures 43.3 inches high by 11 inches wide by 12 inches deep. The top and sides of the 002AB slope toward the back to break up internal waves that could lead to distortion. Its frequency range is 22 Hz to 40 kHz, with a sensitivity of 95 dB and impedance of eight ohms (minimum 6.4 ohms).
The 002AB has two internal amplifiers, one of which drives the mid-bass driver and cannot be adjusted. Belman explained how the level was calibrated by extensive experimentation until it perfectly blended with the full-range driver and provided the power foundation to the music in this frequency region. Often, listeners say that single, full-range driver speakers sound thin. In this very important frequency range, the driver cannot move enough air to give the music its proper fullness and dynamics. By using a self-powered mid-bass coupler driver, this shortcoming is completely eliminated.
The second amplifier powers the subwoofer, and two controls are available on the back of the speaker. One dial controls the crossover point, while the other dial controls the volume of the lower bass/subwoofer driver. Next to the dial controls is the on/off switch for the amplifiers, an LED to indicate that the amplifiers are on, and finally the IEC input. The amplifiers automatically shut off after 10 minutes if they don't receive a signal. Right below these controls, you'll find a pair of high-quality, 18mm gold-plated, copper speaker connections. Above that is a large port to vent the drivers.
Now let's talk performance. As soon as the first notes of the Wayne Wallace Latin Jazz Quintet's album Infinity (Patois Records) filled my room, I knew that the 002ABs were going to be something special. These speakers totally disappeared in the room, creating a large layered soundstage that sounded as if the band had come into my room. I chose this album because it is filled with both very high-frequency Latin percussion details and powerful lower-end bass and organ. The top-end details were all present with a natural/sweet tonality. The range from the lower midrange to the deepest bass notes was powerful, taut, and quick. These speakers had the ability to blend the top and bottom frequencies with the full-range driver in a seamless manner; there was no lack of continuity in the midrange at all.
My next listening selection was by a great trumpet player Clark Terry, with his album Portraits (Chesky Records). This extremely well-recorded album showed off the beautiful timbres/tonality that Mr. Terry could produce on his trumpet. I heard every breath and the smallest nuance of his phrasing with great clarity. None of this was "in your face" or analytical-sounding; rather, it simply gave the illusion that Mr. Terry was playing live in my listening room. The 002ABs did indeed deliver the magical purity and transparent clarity of a single-driver design without the bandwidth limitations that plague this type of speaker strategy.
My final selection was Bonnie Raitt's album Slipstream (Redwing Records), to see if the 002ABs could shake the room with the deep, extended bass of a Hammond B3 organ and provide the kick of Raitt's slide-guitar playing. The 002ABs' built-in self-powered lower bass/subwoofers filled my listening space with nothing but taut and accurate room-shaking bass. Ms. Raitt's sharp-toned, cutting, and leading-edge slide guitar was rendered with speed and tonal precision.
High Points
• The Bache Audio 002AB speakers offer the transparent clarity and micro-details along with the pristine tonality of full-range single-driver designs without drawbacks like rolled-off high frequencies or lack of deep, powerful bass.
• It uses very high-quality components, has excellent build quality, and is based on a very creative four-driver, vented-box design with two active modules.
• Because of its two internal amplifiers driving the mid-bass driver and woofer, it produces thunderous lows and would fit into a home theater application without any need for a subwoofer.
• It is quite successful at blending the absolute purity in the midrange with a seamless transition to an extended sweet, detailed top end–along with taut, powerful bass that is easily tailored by its controls to work in virtually any acoustic space.
• The 002AB can be driven with any type of amplifier, either tube or solid-state, down to eight watts per channel because of its high sensitivity and the built-in amplifiers for its lower-frequency drivers.
Low Points
• The Bache Audio 002AB speaker is a relatively large speaker with a wide profile that will not visually disappear as easily as more slender designs.
Competition and Comparison
Based on price, two speakers that would naturally be the competitors for the Bache Audio 002AB are the Dali Epicon 6, retailing for $13,995/pair, and the Wilson Audio Sabrina, retailing for $15,900/pair. The Dali Epicon 6 offers very good transparency and micro-details; however, for the important midrange, the Dali Epicon 6 was not as detailed, nor did it offer the pristine tonality of the 002AB. I also found that the Epicon 6's high-end frequencies were not as airy and detailed as the 002AB's. The Wilson Audio Sabrina could not match the 002AB in two major aspects. First, the power, accuracy, and extension of the lower frequencies were much better in the 002AB. Second, overall clarity and transparency were at a lower level in the Wilson speaker.
Conclusion
With his Bache Audio 002AB speaker, I believe that Gregory Belman has delivered on his design promise of getting virtually all the sonic benefits of a single, full-driver speaker design (speed/transparency/purity of tonality/micro-details/seamlessness of the entire frequency range) while avoiding its shortcomings. These reference speakers present music in a very natural/organic way, allowing you to relax and get into the emotions of the artists on the recording. You can drive the 002AB speakers with a "flea watt" design because the amplifier is only driving the midrange and tweeter transducers that are 95 dB in sensitivity, and the speakers sounded great when using either tubes or solid-state amplification. Finally, the 002AB's design makes it very easy to find the right crossover point and volume to suit your listening space. I had great success with the Bache Audio 002 speakers in both my very large acoustic space and my standard-sized listening room.
About Project